The Star, May 11, 1999
1,000 attend memorial service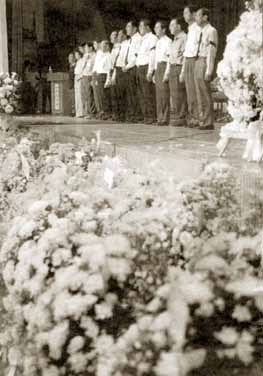 SEREMBAN -- Wreaths and bouquets of flowers and condolence massages covered part of the hall at Chung Hua Independent High School on Sunday when 1,000 people attended a three-hour memorial service for those who died of the viral outbreak in Bukit Pelanduk, Port Dickson.
Buddhist monks conducted special prayers for 78 victims who had succumbed to the disease since January while the crowd echoed by reciting holy verses during the brief ceremony.
State MCA leaders led by chief Datuk Wong See Wah paid their respects along with several members of the DAP and Chinese-based organisations.
Organising committee secretary for the service, Chew Seh Yong, said 97 Chinese associations throughout the country also attended the ceremony although the committee only notified them three days ago.
He said many who were unable to attend the ceremony had sent wreaths on behalf of their associations.
"Families of the deceased were touched by the response and condolence messages sent by the well-wishers," Chew added.